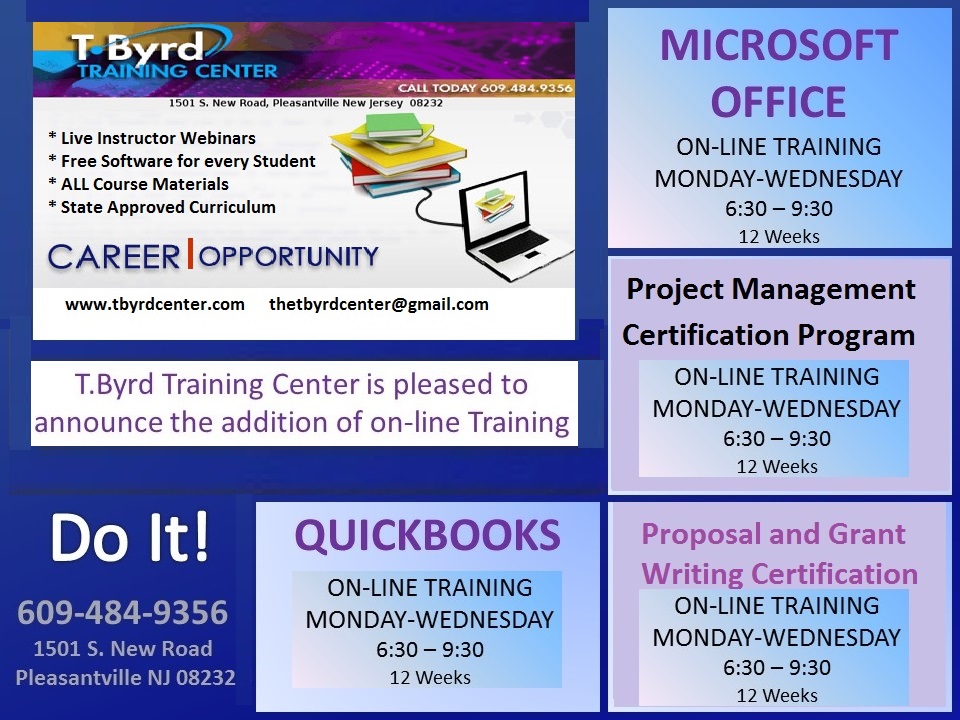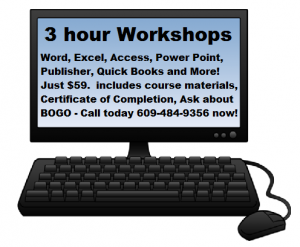 3 Hour WORKSHOPS
If your are working and need to update your skills in specific subjects such as Microsoft Word, Excel, Access, Power Point, Publisher, Outlook, One-Note
Attend these cost effective hands on workshops.  They are held on-line or at the campus.  On-line classes are just $29.  At campus classes are $39.
Includes all course materials and lab fees. Registration fee is $10 for the year.  Because we are a state approved private vocational school, there are administrative procedures required!
Full Time Curriculum programs
This months Free CBT Class or "Unemployed, Now WHAT workshop"    registration is required!
Welcome to the T.Byrd ONLINE Training Center.
Thank you for choosing our school for your on-line training needs.  All of our course curriculums are approved by the New Jersey Department of Education.  Our classes are structured and provide students with hands on exercises, lab assignments and projects.  Students who successfully complete our training modules will earn certification recognized by the New Jersey Department of Education and Labor.
The T.Byrd Training Center has 25 plus years experience as a NJ State approved private vocational school which requires annual re-certification.  We also have Maryland State approval pending.  Our mission statement is to provide an educational environment that is "applied learning" rather than "academic".  This simply means our school measures your success on how you have applied what you have learn in terms of the exerices, lab assignments and projects that you complete.
Our objective is to provide you with specific training that is required for any industry you seek employment or starting your own business.  Our school believes you should have your own company as the secondary income rather than a part-time job if must work a full time job!
Click on the links below to print our On-Line Training Information Kit, Advertised Flyer and our COMPLETE Course List:
2017 T.Byrd Center On-Line Training Information Kit
2017 T.Byrd CENTER ONLINE Class List
Call or complete our Contact Us form from our website for more information on our On-Line Workshops, Classes and Courses.
Click the link below to register for: